Return to Nav
QDOBA Menu
Halsey
10:30 AM
-
10:00 PM
10:30 AM
-
10:00 PM
10:30 AM
-
10:00 PM
10:30 AM
-
10:00 PM
10:30 AM
-
10:00 PM
10:30 AM
-
8:00 PM
10:30 AM
-
8:00 PM
10:30 AM
-
10:00 PM
10:30 AM
-
10:00 PM
10:30 AM
-
10:00 PM
10:30 AM
-
10:00 PM
10:30 AM
-
10:00 PM
10:30 AM
-
8:00 PM
10:30 AM
-
8:00 PM
Hours
Day of the Week
Hours
Monday

10:30 AM

-

10:00 PM

Tuesday

10:30 AM

-

10:00 PM

Wednesday

10:30 AM

-

10:00 PM

Thursday

10:30 AM

-

10:00 PM

Friday

10:30 AM

-

10:00 PM

Saturday

10:30 AM

-

8:00 PM

Sunday

10:30 AM

-

8:00 PM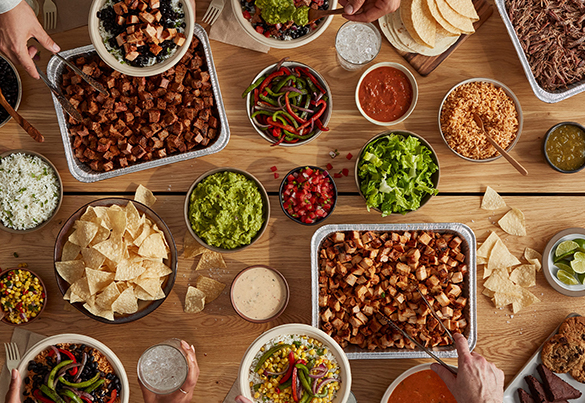 OUR FLAVORS, YOUR GATHERING
Whether you're feeding a work team or tailgating for the home team, QDOBA Catering makes it easy to serve a meal that everyone can enjoy.
EASY ORDERING
In Restaurant

Come in to QDOBA Halsey to order your next masterpiece. Select one of our Signature Eats, or customize your entrées and add all of your favorite flavors as you walk down the line.
QDOBA Rewards
0-3 Visits
Recruit
10 Points Per Dollar
4-9 Visits
Apprentice
100 Bonus Points per order
10 Points Per Dollar
10-24 Visits
Pro
100 Bonus Points per order
15 Points Per Dollar
25+ Visits
Champ
100 Bonus Points per order, Monthly Mystery Perk
20 Points Per Dollar
Restaurant Rewards
Rewards members earn points for every dollar they spend at QDOBA, and can redeem these points for free food. As you place more orders, you will unlock special perks and the ability to earn points even faster. Join today for free.
Catering Rewards
Catering your event has never been so rewarding. Earn 1 point for every dollar spent, and redeem for great perks. 100 catering points gets you a free entrée; and every 1,000 points gets you a $50 catering discount or a $50 Visa® gift card. Sign up today to start earning.
About Qdoba Halsey
Welcome to QDOBA Mexican Eats, a modern Mexican restaurant where you can relax with friends and revel in the many unique flavors and varieties that you can't find anywhere else. QDOBA 64 Halsey St Newark, NJ offers free WiFi to enjoy while you explore a full menu of classic Mexican entrées, including burritos (and burrito bowls!), quesadillas, nachos and signature flavors such as our craveable, creamy 3-Cheese Queso. And to sweeten the deal, we let you top your dish off with guacamole and queso, at no extra cost. Want to make an event a little more memorable? We offer catering, too. Let your guests create the flavorful Mexican dishes of their dreams with our hot bars – set up and party ready for when you need them. Sign up for QDOBA Rewards to earn points toward free food and other perks, and come see us today at 64 Halsey St Newark, NJ for a flavorful experience.