Return to Nav
INVITE THE HOT BAR TO YOUR PARTY
QDOBA offers a craveable spread for any event, big and small. From our hot bars with build-your-own tacos, nachos, burrito bowls and salads to our delicious box lunches options, you're sure to delight even the pickiest eaters. Our catering team will ensure your order arrives on time and is set up and ready when you need it. Give your guests the gift of flavor with QDOBA Catering.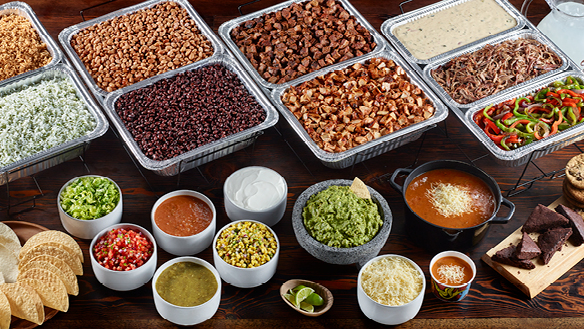 EASY ORDERING
In Restaurant

Come in to QDOBA Cadillac to order your next masterpiece. Select one of our Signature Eats, or customize your entrées and add all of your favorite flavors as you walk down the line.
QDOBA Rewards
4-9 Visits
Apprentice
100 Bonus Points
10-24 Visits
Pro
$2.00 Chips & Queso
25+ Visits
Champ
$2.00 Chips & Queso, Monthly Mystery Perk
Restaurant Rewards
Our Rewards program is designed to do just that – reward you for your visits with perks and free QDOBA eats. Order, climb tiers, earn points, and redeem them on a variety of items, including drinks, chips & guac, entrées, and more. Once you become a Champ, you get 20 points per dollar, $2 Chips & Queso (or 100 points) for every visit, plus a monthly mystery perk. The more you order, the more you get.
Catering Rewards
Get rewarded for ordering QDOBA Catering. With Catering Rewards, you earn 1 point for every dollar spent that you can redeem for catering discounts, free entrées, and Visa® gift cards. 100 catering points can get you a free entrée, and 1,000 catering points can get you a $50 catering discount or a $50 Visa® gift card. Plus, your catering orders count as visits so you can climb tiers faster.
Download the app
For easy ordering and exclusive offers, download the app. Available for iOS and Android.

Order ahead, pay, and skip the line. Plus, earn Rewards with every order, get exclusive app perks, and redeem or gift points for free menu items.